The 15 Hottest Travel Destinations for 2023 & 2024!
GUIDESTY'S TOP 15: The 15 Hottest Travel Destinations for 2023 & 2024!
Traveling goes beyond going from one place to another; it's about pushing your boundaries immersing yourself in cultures savoring exotic dishes and most importantly taking a break from the digital world to reconnect with reality.
While there are captivating destinations around the globe we've handpicked the best for you. Whether you're planning an escape or an extended getaway these must see locations promise adventures.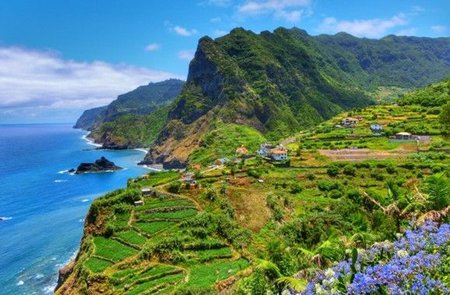 #1. Explore Madeira Island, Portugal; The Top Choice for 2023
with Madeira Island? Get ready to be amazed. Situated off the coast of Portugal many affectionately call Madeira "Europes Hawaii ". Its not hard to understand why. Picture crystal clear blue waters framed by cliffs that evoke images of stunning Pacific landscapes.
Madeira is more than just visually stunning. The island offers;
Breathtaking Beaches and Exciting Hiking Trails; Like its counterpart Madeira boasts beaches and thrilling hiking trails suitable for both beginners and seasoned adventurers.
Delicious Gastronomy; Pay a visit, to Funchal, the heart of the island, where you can indulge in cafes mouthwatering seafood delicacies and an impressive array of wines. Madeira is perfect, for nomads, with the visa designed just for them. You can easily. Work in this place.
Experience the wonders of Madeira by immersing yourself in volcanic pools and enjoying its consistently pleasant climate that feels like spring all year round.
Don't hesitate! Discover the charm of Madeira. Let it captivate you completely!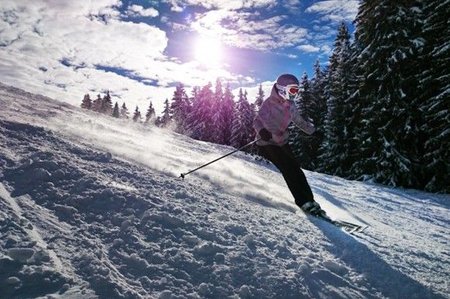 #2. Canada: A Family Adventure Awaits in 2023
Discover Canada's vast landscapes, from its buzzing cities to its serene natural wonders. Tailored as the ultimate family-friendly destination, Canada promises enriching experiences for children and adults alike.
Toronto's Charm:
Sky-High Views: The iconic CN Tower offers a bird's-eye view of Toronto's sprawling cityscape. Interactive Exploration: Dive into learning at the Ontario Science Museum. Perfect for curious minds of all ages, it promises both play and education. Nature's Retreat: The Canadian Rockies:
Embark on a family road trip against the backdrop of the majestic Rockies. From the tranquil waters of Emerald Lake near Yoho to the exhilarating heights of the peaks, there's no shortage of memories to make. Banff: Winter Wonderland:
Often compared to New Zealand's Queenstown, Banff is every adventurer's dream. Revel in epic skiing and snow sports. And as the sun sets, wind down with a rich, creamy hot chocolate. Plan your unforgettable Canadian family getaway today and let the adventures begin!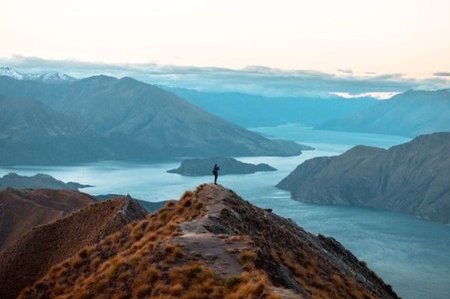 #3 South Island, New Zealand: Uncover Nature's Tapestry with Guidesty in 2023
Venture into the heart of one of the world's most mesmerizing locales - South Island, New Zealand. With landscapes that seem to have been plucked from a dream, it's a journey you won't soon forget.
Stepping Into Fantasy: Internationally celebrated as the cinematic canvas for the "Lord of the Rings" series, traversing South Island feels akin to wandering through a mythical kingdom. Every corner of this island reveals a spectacle grander than the previous.
Landscapes Beyond Imagination:
Lush subtropical forests nestling untouched coastlines to gravity-defying peaks that boggle the mind, South Island constantly surprises and delights. Experience the grandeur of sperm whales in Kaikoura today, and tomorrow, be amidst sprawling glacial lakes. The Warmth of Kiwi Culture: Beyond its scenic wonders, South Island boasts a vibrant and welcoming heart. The always amicable Kiwis have an innate flair for kinship, ensuring that visitors are treated as friends, not outsiders. Whether you're gazing at the transcendent beauty of Milford Sound or challenging yourself in the Remarkables, the island's enchantment isn't solely in its vistas, but also its inhabitants.
Join us at Guidesty - where every adventure is not merely a journey, but an epic tale waiting to unfold.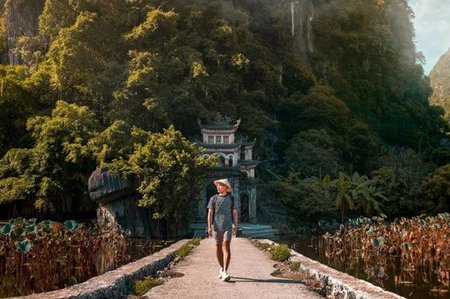 #4 Southeast Asia with Guidesty: Your Budget-Friendly Gateway in 2023
Who says travel has to be expensive? Dive into Southeast Asia, where every penny stretches further. The moment you land, it feels like a brand new world. The air is thick with humidity, streets buzz with activity, and that tantalizing aroma? Yep, it's dinner being whipped up in some corner stall.
Southeast Asia has become the go-to destination for rookie backpackers and seasoned travelers alike. And here's why: this region offers a cocktail of experiences that won't drain your savings.
Amazing Deals at Every Corner: Imagine scoring a cozy dorm bed for just five bucks, or filling up on mouth-watering noodles for even less! And the experiences? Absolutely priceless. One day, you're diving deep into Phuket's azure waters, and by the next, you're weaving through Cambodian jungles en route to Vietnam, all on the back of a trusty motorbike.
Dive Deep into Diverse Cultures: Every country here has its own flavor. Stroll past stunning monasteries that gleam under the sun or join lively local parades that paint the streets with color. Unearth the secrets of ancient wonders like Angkor Wat or navigate the fast-paced lanes of dynamic cities like Bangkok.
With Guidesty by your side, Southeast Asia isn't just another destination on the map. It's a vibrant adventure, incredibly light on the pocket, and heavy on memories.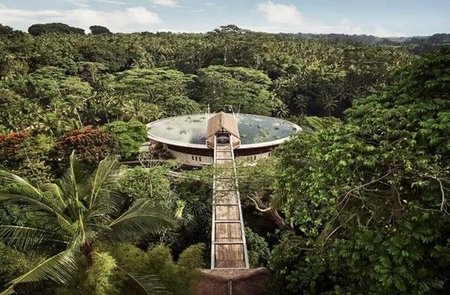 #5 Bali with Guidesty: The Ultimate Honeymoon Getaway in 2023
Picture this: warm sunsets, pristine beaches, lush jungles, and the tantalizing aroma of delectable cuisines. Welcome to Bali, an island paradise that offers both thrill and tranquility without burning a hole in your pocket.
Why Bali is Every Couple's Dream: There's a reason Bali ranks high for honeymooners. Think beachside dinners under a canopy of stars or adventurous days exploring the marine life as you scuba dive hand-in-hand. And as the day winds down, imagine stepping into your private villa, perhaps with its very own hot tub, right in the heart of nature.
Relax, Explore, and Soak in the Charm: Bali's allure lies in its perfect balance. There's the pull of the wild, yet there's a sophisticated touch to everything. Veer off the usual path and you'll discover hidden gems. And when it's time to recharge, what better way than at an upscale jungle spa?
With a week at your disposal, you can curate a mix of exciting activities and serene moments. And if you're wondering how to strike that balance, Guidesty's trip planner has got your back.
Hammock, Beach, and Just the Two of You: Every honeymoon needs downtime. Find that perfect hammock, swing to the gentle rhythms of the island breeze, and lose yourself in deep conversations or simply the company of your loved one.
After all, Bali isn't just about places and activities. It's about moments, memories, and yes, those magical times with your partner. 💕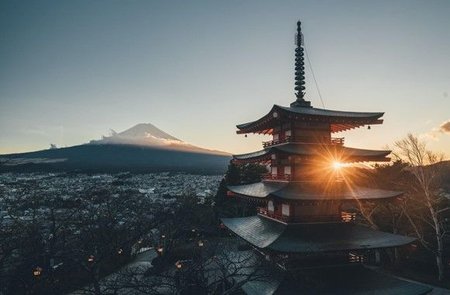 #6 Japan with Guidesty: Dive into the Future, Rooted in Tradition
Japan, the captivating blend of tradition and innovation, tops many travel wish lists. Why? Imagine a country where age-old shrines peacefully coexist with neon-lit streets and where every corner teems with technological wonders, from lightning-fast Shinkansen trains to all-purpose vending machines.
Contrary to popular belief, Japan suits a variety of budgets. From the solo backpacker to the opulent traveler, there's something for everyone. Delight in unmatched sushi, immerse yourself in rich cultural experiences, or capture that perfect shot of the majestic Mount Fuji. And if you're pondering how to navigate this intriguing nation, Guidesty's trip planner can help you craft that dream itinerary.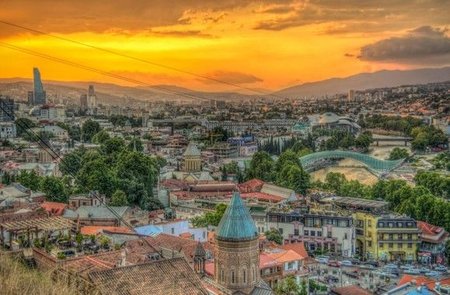 #7 Georgia: More than Just a Passing Visit
Casual nights in Tbilisi? That's just the beginning. Georgia has recently caught the eye of many, especially digital nomads, drawn to its welcoming vibes and breathtaking landscapes. Its tapestry of history is woven with architectural marvels, delicious wine and cheese, and the scenic allure of the northern mountains.
For those craving coastal breezes, Georgia's Black Sea shores are a refreshing detour. Make Tbilisi your base, indulge in delectable Georgian cuisine, and then spread your wings to explore the country's diverse regions.
And for the true adventurers? Consider venturing to Abkhazia. Though its independence is recognized by only a handful of nations, its distinct culture and history make it a noteworthy stop. Just ensure you secure the necessary permits, and you're set for a deep dive into uncharted terrains.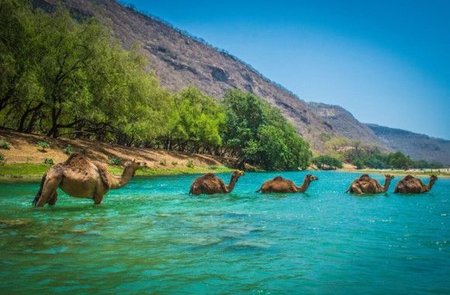 #8 Oman with Guidesty: A Hidden Gem of the Middle East
Oman has etched itself as one of the most unforgettable places I've journeyed to. Picture a realm where rugged mountains meet the embrace of azure waves and enticing wadis beckon for a refreshing dip. The magic lies in the serenity; these natural wonders often feel like your own personal retreat.
Driving remains the ultimate way to uncover Oman's treasures. Rent a car, and let the adventure unfold. From the verdant stretches of Salalah to the bustling charm of Muscat, you can traverse this nation's length and breadth within a month. And if there's one piece of advice? Dive into the wadis as much as you can – their allure is simply unparalleled.
Considering a detailed itinerary? Guidesty's trip planner can help ensure you capture all of Oman's best spots.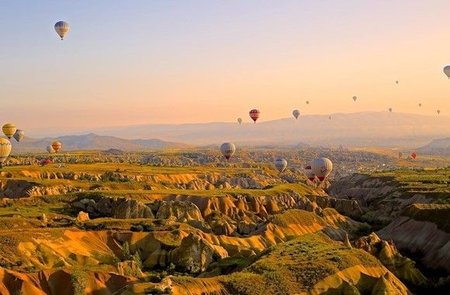 #9 Turkey: A Tapestry of Cultures and Landscapes
Beyond the vibrant streets of Istanbul and the historical wonders of Ankara, Turkey unveils a canvas of varied experiences. Think of the ethereal landscapes of Cappadocia, where hot air balloons paint the dawn, or the expansive coastlines that tell tales of ancient civilizations.
Turkey's unique position, bridging both Asia and Europe, offers a fusion of cultures and vibes that travelers can sense as they journey through. From picturesque spots like Pamukkale Springs to lesser-known treasures like Mardin, Turkey caters to every traveler's whimsy.
And here's a bonus: Turkey seamlessly blends luxury with budget-friendly options. So, whether you're backpacking or seeking a lavish escape, you're in for a treat. Let Guidesty guide the way, ensuring you make the most of your Turkish escapade.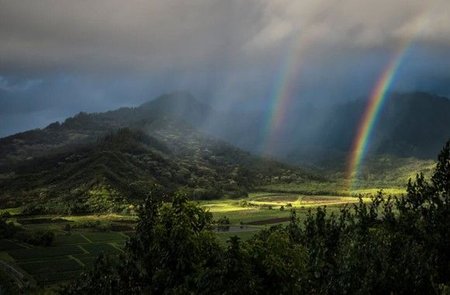 #10 Hawaii with Guidesty: America's Tropical Jewel
Hawaii continually ranks among top travel destinations, and for excellent reasons. This island paradise, draped in vibrant green and surrounded by azure waters, represents the very essence of beauty in the USA.
Imagine soft white or unique black sand beaches, perfect for relaxation or vibrant snorkeling experiences. If waves beckon, Hawaii's surf scene offers thrills that are unmatched anywhere. The islands invite exploration: trek through scenic trails, or venture to the Big Island, famous for its captivating volcanic landscapes. And while you're here, don't miss out on the authentic Hawaiian flavors - shave ice, poke, and many more.
A trip to Hawaii doesn't have to burn a hole in your pocket. From cozy hostels to affordable Airbnb stays, there's something for everyone. And if you're keen on crafting the perfect Hawaiian journey, consider checking out the Guidesty trip planner.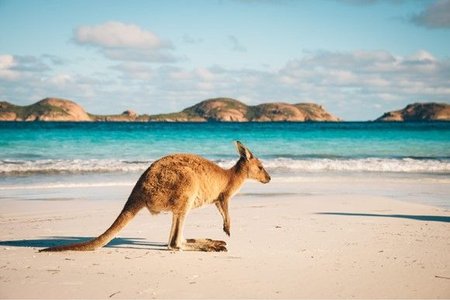 #11 Australia: A Beach Lover's Dream Come True
Australia is synonymous with beaches. Boasting over 12,000 of them, it's a haven for those who love the sun, sand, and sea. Given that the vast majority of Australians live close to the shoreline, the beach culture here is vibrant and infectious.
New to surfing? Chances are, there's a friendly local around, ready to give you some tips. The country's coastlines are playgrounds for water enthusiasts, offering world-class diving, sailing, and fishing. And, while an Australian road trip is a fantastic way to discover renowned spots like Bondi Beach, there's so much more.
Explore the southwestern coast where Geographe Bay's serenity meets the surf vibes of Yallingup. Venture north and be intrigued by crocodiles and coconut trees, or south to Tasmania's dramatic cliff drops. Whimsical beach treasures await discovery, from ambergris to driftwood.
At the end of your beach escapade, rest at some of Australia's top hostels, and if you're pondering which beaches to prioritize, the Guidesty trip planner might just be your trusty companion. So, whether it's unwinding with a book, basking in the sun, or seeking an adrenaline rush, Australia's beaches are the places to be!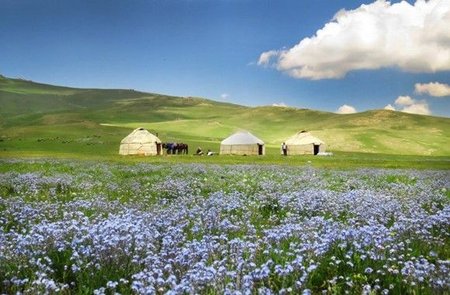 #12 Kyrgyzstan with Guidesty: Unveiling Nature's Raw Beauty
Ever whispered the name Kyrgyzstan in your travel conversations? If not, let's dive into this gem! Nestled in Central Asia, Kyrgyzstan is an adventurer's dream, boasting untouched landscapes that stretch across mountains and valleys. Some slices of the iconic Pamir Mountains even grace this land.
If you're seeking authentic travel experiences, journey here during the warmer months. You'll witness nomadic lifestyles in action, with families setting up their traditional yurts. The warmth of Kyrgyzstan isn't just in its landscapes but also in its people. Their heartwarming hospitality is bound to leave an impression, offering an intimate look at their culture.
And if you're watching your pennies, rejoice! Kyrgyzstan is budget-friendly, and its strategic location makes hopping over to neighboring 'Stans a breeze. Looking for an optimized travel route? Guidesty's trip planner can point the way.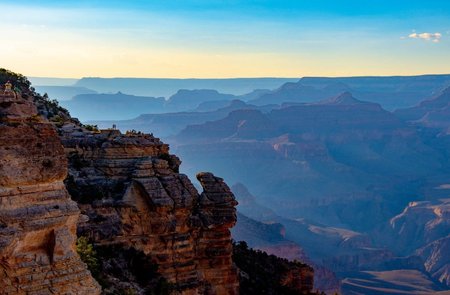 #13 Arizona: A Window to America's Stunning Vistas
Arizona, a shining jewel of Southwest USA, promises cinematic landscapes at every turn. While the Grand Canyon naturally steals the limelight, let's not forget Sedona, with its captivating landscapes and rumored energy vortexes.
Despite its warm embrace, Arizona's climate can indeed sizzle during summer. But that's a small price to pay for access to its treasure trove of national parks, unique trails, and spectacles like the Havasu waterfall.
For those seeking unparalleled panoramic views, Arizona stands tall as the go-to destination within the continental United States. And if you're keen on piecing together the perfect Arizona itinerary, a little birdie (hint: Guidesty's trip planner) might just have some suggestions for you!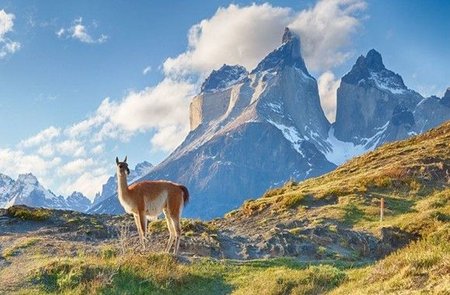 #14 Chile with Guidesty: South America's Unsung Marvel
Have a soft spot for sprawling mountains and vast deserts? Well, let me introduce you to Chile, a South American stunner that many miss out on. Renowned for its breathtaking glaciers and trails, Chile is a paradise waiting for explorers of all kinds, whether they're backpacking solo or indulging in luxury.
Taking the shape of a slender chili pepper, this nation is generously sprinkled with nature's wonders. While avid hikers flock to the mesmerizing Torres del Paine National Park, Chile's palette also boasts the striking Atacama desert and a seemingly endless coastline. And for those seeking a secure travel experience, Chile stands tall among the continent's safest destinations. Wondering how to craft the ultimate Chilean journey? Dive into the Guidesty trip planner for some insider tips.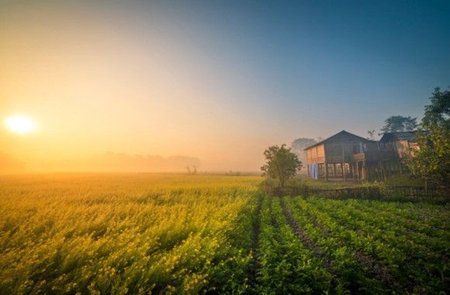 #15 Northeast India: The Uncharted Charm of India
The very thought of India might be overwhelming, given its massive population and bustling streets. However, tucked away in its eastern corner is a haven that feels worlds apart. Welcome to Northeast India, where the ambiance mirrors Southeast Asia, yet everything—from the culture to the cuisine—is beautifully unique.
Spanning seven distinct states, commonly dubbed the "Seven Sisters," this region stands out as a gem in India's crown. A mosaic of cascading waterfalls, verdant landscapes, and tribal communities with rich cultural tapestries await you. Even if mainstream Indian destinations aren't calling out to you, let Northeast India offer a fresh, intriguing perspective. And, given its off-the-beaten-path nature compared to popular spots like Goa's beaches or the bustling Himalayas, you're in for an authentic experience, minus the usual crowds.
If you're tempted to unlock the magic of this lesser-known region, don't forget to tap into the Guidesty trip planner to chart out your adventure seamlessly.