Discover the Finest Lisbon Walking Tours for Unforgettable Adventures
Lisbon, a city dear to my heart, has a plethora of enthralling attractions, ranging from spectacular museums and historic sites to lovely plazas and cozy cafes. The city's charm is enhanced by its thriving nighttime scene, which includes a mix of boisterous clubs and intimate music venues where traditional fado tunes fascinate. I was initially smitten on my first visit, and my return just reinforced my love for this lovely destination.
Today, Lisbon is one of Europe's most desirable towns, attracting a broad mix ranging from cruisers to digital nomads, all captivated by its sunny ambiance. I've been to the city several times over the years, always ready to immerse myself in its warm hospitality, appealing hues, and peaceful atmosphere, which emits a sense of calm.
For those eager to embrace all that Lisbon has to offer, especially first-time visitors, there's no better way than embarking on a walking tour. Personally, it's my go-to activity when exploring a new city, providing a unique opportunity to connect with a knowledgeable local guide, gain insider insights, and discover the key highlights.
With a plethora of walking tours now available, tailored to various interests and preferences, I've compiled a list of my personal favorites. From delightful free tours to indulgent food tours and exciting pub crawls, this comprehensive guide will help you choose the very best experiences for your unforgettable Lisbon adventure.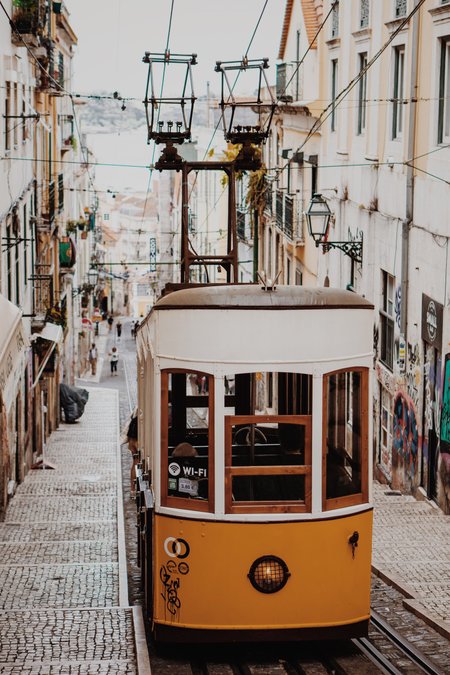 Make the most of your time in Lisbon with these additional walking tour options that promise unforgettable adventures:
1. Devour
Having made its mark in Spain, Devour quickly extended its expertise to Lisbon, offering a delightful fusion of food and fado experiences in a single tour. Among their enticing offerings, the 'Tastes & Traditions' food tour stands out as a personal favorite. Embark on a culinary journey through seven charming small businesses in Lisbon, indulging in up to nine delectable samples and savoring three distinct types of beverages. As one of the finest food tour companies in Europe, Devour ensures a remarkable experience that remains unparalleled.
Tour prices start at 95 EUR, promising exceptional value for your Lisbon escapade."
2. Discover Lisbon's Highlights with Inside Lisbon
Inside Lisbon is a versatile tour company that caters to various interests, offering a wide array of captivating tours. For those seeking an ideal introduction to Lisbon or traveling on a budget, their 'Best of Lisbon' tour is a perfect choice. Commencing at 9:30 am and spanning three delightful hours, this tour takes you through the city's main neighborhoods, while treating you to a taste of Portugal's renowned pastry, the delectable pastel de nata (egg custard tart), paired with a refreshing glass of wine. With group tours limited to a maximum of 14 people, you can expect a personalized and enjoyable experience.
Embrace this incredible adventure with tours starting at just 18 EUR, ensuring a fantastic value for your Lisbon exploration."
3. Explore Lisbon's Vibrant Street Art Scene with City Guru Street Art Tour
Witness the captivating global phenomenon of street art that has engulfed major cities worldwide, including Lisbon. The City Guru Street Art Tour promises a remarkable three-hour journey, where you'll be introduced to some of the city's finest street art masterpieces while delving into the social and political motivations driving these artistic expressions. What sets this tour apart is its local street artist guide, offering an authentic insider's perspective, granting you exclusive access to murals that often remain undiscovered by other tours.
Embark on this immersive experience with tours starting at 35 EUR, ensuring a captivating exploration of Lisbon's dynamic street art landscape. Let the vibrant colors and compelling narratives of these urban artworks leave a lasting impression on your journey through this enchanting city.
4. Pancho Tours: Unveiling the Essence of Lisbon's Culture
Pancho Tours takes you on an enriching journey throughout the Iberian Peninsula, led by knowledgeable local guides who curate itineraries focusing on street art, tapas, wine, and exciting day trips, including enchanting Sintra. Among their diverse offerings, the fado music tour stands out as a personal favorite. Over 2.5 unforgettable hours, you'll delve into the heart of this soul-stirring music, deeply rooted in Portugal's heritage. The tour culminates with an extraordinary front-row experience at a fado show in the heart of Lisbon.
Tours begin at approximately 40 EUR, granting you an exceptional opportunity to immerse yourself in the authentic cultural essence of Lisbon.
5. We Hate Tourism Tours: Embrace Authentic Lisbon Living
Combatting overtourism, We Hate Tourism Tours presents a refreshing concept, inviting you to explore lesser-known neighborhoods off the beaten path, offering a genuine glimpse into the lives of Lisbon's locals. With small groups of around six people per tour, this 3.5-hour walking experience ensures an intimate and authentic encounter. Due to its popularity, booking in advance is essential to secure your spot. Witness the true essence of Lisbon life as the tour takes you beyond the typical tourist areas.
Tours start at 40 EUR, making this tour an invaluable addition to your Lisbon adventure.
6. Discover Lisbon Pub Crawl: Unveil Lisbon's Lively Nightlife
Experience the vibrant nightlife of Lisbon and forge connections with fellow travelers on the Discover Lisbon Pub Crawl. This classic tour takes you to three exciting spots, treating you to complimentary shots at the first and last stop. Additionally, enjoy a one-hour period of unlimited cider or sangria. A fantastic option for solo adventurers eager to meet like-minded individuals. While not a traditional "local" experience, it promises an evening of enjoyable revelry.
Tours start at just 20 EUR, offering an affordable and lively way to explore Lisbon's nightlife scene.
In Lisbon, the abundance of walking tours catering to various interests and budgets is one of the city's many delightful features, making it a top destination for travelers like me. Each time I visit, I indulge in one or more tours, captivated by the city's wealth of attractions and activities. The local guides enrich my experience, providing valuable insights that enhance my trip significantly. These carefully curated tours offer an authentic insider's perspective, enabling you to immerse yourself in Lisbon's vibrant lifestyle and seek advice from the friendly locals on the best places to visit, activities to enjoy, and cultural norms to follow. Don't miss the chance to partake in at least one of these remarkable tours during your stay in Lisbon!