Amsterdam's Top 7 Contemporary Luxury Hotels
Amsterdam's Top 7 Contemporary Luxury Hotels
A hotel's design significantly impacts its overall ambiance and how guests feel during their stay. For those with a penchant for modern aesthetics, Amsterdam doesn't disappoint. Dive into our curated list of the city's best modern luxury hotels, where contemporary charm meets unparalleled service.
Here are the trendsetting luxury accommodations to consider:
1. Waldorf Astoria
Waldorf-Astoria, a name representing the epitome of upscale hospitality since 1893, offers an Amsterdam location that seamlessly blends history with contemporary luxury. Nestled within six exquisite canal-side mansions on the prestigious Herengracht, some dating back to the 1670s, this hotel effortlessly intertwines modern elegance with historical allure. Highlights include:
Historic Charm: Discover 17th Century artworks, polished marble, stucco, and a breathtaking staircase crafted by Louis XVI's renowned architect.
Relaxation: An elite Guerlain spa and an indoor pool rank among Amsterdam's finest.
Dining: Under the expertise of Sidney Schutte, one of the Netherlands' celebrated chefs, the culinary experience is nothing short of extraordinary.
Spacious Retreats: Among Amsterdam's luxury hotels, Waldorf Astoria stands out with some of the most generously sized rooms and suites.
Location: Located in the heart of Amsterdam, it offers proximity to key attractions while ensuring a luxurious retreat.
Considering its esteemed reputation, the Waldorf Astoria rightfully commands its place as one of Amsterdam's premium hotel destinations. More info on Booking: Waldorf Astoria

2. Sofitel Legend The Grand
If there's one place that captures the essence of opulence reminiscent of London's iconic Ritz, it's the Sofitel Legend The Grand in Amsterdam. A journey through time, this hotel boasts a storied history, initially serving as a monastery in 1578 before transitioning into Amsterdam's City Hall for two centuries. Immerse yourself in an ambiance where historical grandeur meets modern luxury. Features include:
Rich Heritage: The towering ceilings and pristine white marble floors evoke a majestic atmosphere.
Luxurious Touches: Dive into an experience enriched with warm hues, playful design elements, and high-end installations throughout the hotel.
Elite Amenities: Indulge in premium offerings like Hermes bathroom products, state-of-the-art Bose sound systems, and even the novelty of a horse-drawn carriage for city tours.
Unique Experiences: From a dedicated cigar bar, a rejuvenating spa with a sizable pool, to Amsterdam's most picturesque garden courtyard, the choices are plentiful.
Romance Amplified: For those seeking a romantic getaway, the Bridal suite is an absolute dream, complete with a personal hammam and an attentive butler at your beck and call.
The Sofitel Legend The Grand is undoubtedly a testament to timeless luxury, ensuring every guest experiences a touch of Amsterdam's regal past.
More info on Booking.com: Sofitel Legend The Grand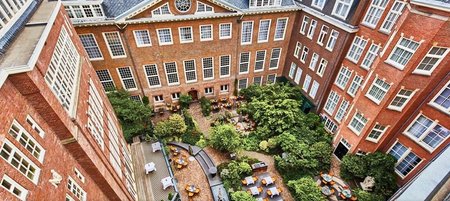 3. Hotel Okura
Searching for a sublime 5-star experience in Amsterdam? Look no further than Hotel Okura. As a standout in the trendy yet laid-back neighborhood of De Pijp, Hotel Okura isn't just one of the best; it's an icon of refined opulence. Here's why:
Dominant Presence: Towering over the surroundings with its 23-story stature, it's hard to miss this landmark of luxury.
Japanese Excellence: Embrace the art of immaculate Japanese service. It's a tranquil, Zen-inspired haven tucked away from the bustling city center.
Sprawling Space: Being a modern establishment, Okura boasts expansive amenities:

Dining Delights: Choose from four top-tier restaurants, each promising a unique gourmet experience.
Nagomi Spa: Dive into tranquility in the city's largest hotel pool and enjoy a world-class spa experience.
Views from the Top: The rooftop cocktail bar offers a mesmerizing panorama of Amsterdam.
Authentic Touch: Find your zen moment in the meticulously curated Japanese garden.

Sumptuous Suites: Expect well-lit, spacious rooms equipped with all the modern luxuries.
Unparalleled Service: With a team that epitomizes "seen but not heard," your stay is bound to be serene and seamless.
For those yearning for a relaxed and rejuvenating escape in the heart of Amsterdam, Hotel Okura is the pinnacle of luxury hospitality.
More info on booking.com Hotel Okura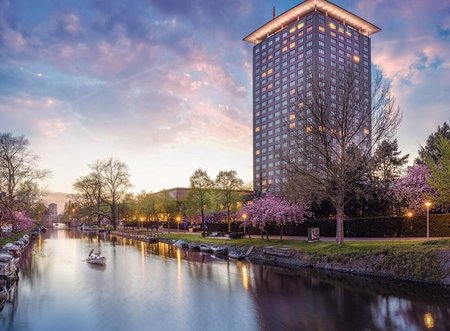 4. Experience Modern Luxury at The W Hotel, Amsterdam
Tucked just steps away from Dam Square, The W Hotel emerges as a beacon of contemporary luxury amidst Amsterdam's historic charm. A blend of the city's rich past and a trendy future, this luxury hotel offers a stay experience tailored for the discerning traveler.
Here's why it's a must-visit:
Strategic Location: Nestled close to Amsterdam's bustling heart, ensuring the best of the city is always within your reach.
Architectural Brilliance: The hotel masterfully integrates two historically significant buildings:

Exchange Elegance: Previously a telephone exchange, now boasts a rooftop pool offering mesmerizing city views.
Banking on Relaxation: The former bank's vault has been transformed into a spa sanctuary.

Art and Design: Modern aesthetics meet local artistry, ensuring every room is a visual treat.
The Rooftop Experience: Not just a bar but a vantage point. Enjoy cocktails while gazing upon the Royal Palace and the city skyline.
Quality Assurance: Being part of the esteemed Marriott Hotel Group, quality and luxury are guaranteed.
For those navigating the world of hotel bookings, seeking both luxury and value, The W Hotel, part of the Marriott family, stands out as a top choice in Amsterdam.
More info on Booking: The W hotel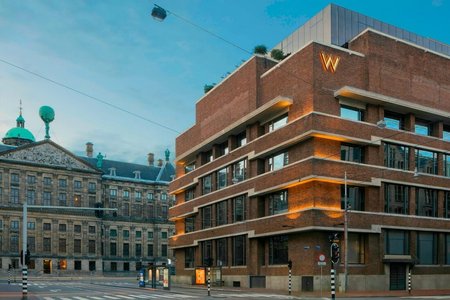 5. NH Collection Amsterdam Grand Hotel Krasnapolsky: A Blend of History and Modernity
Delving deep into Amsterdam's rich history and legacy of luxury accommodations, the Grand Hotel Krasnapolsky has crafted its niche. Established over 150 years ago by Adolph Wilhelm Krasnapolsky, what began as a quaint coffee house has today transformed into a symbol of Amsterdam's opulence.
Highlights of this Iconic Stay Include:
Historical Glimpses: Every room door adorns a copperplate, reflecting an image from yesteryears, subtly reminding guests of the hotel's glorious past.
Location Advantage: Ideally situated on the cusp of Dam Square, with the Royal Palace gracing the opposite side. Accessibility? A breeze! Tram stops abound at Dam Square and a mere 15-minute stroll lands you at Amsterdam Central Station.
Gastronomic Delights: The Grand Café Krasnapolsky isn't just a café but a time capsule, boasting of its inception in 1866. Expect classic dishes with modern flair, a diverse tea selection, and other sumptuous offerings. But for a stellar dining experience, the Michelin Star awarded White Room restaurant promises modern culinary marvels.
Roomy Residences: Spacious rooms with awe-striking views of the square, and a spectrum of designs ranging from classic to contemporary. Eyeing unparalleled luxury? The Presidential Room, with its opulent jacuzzi, awaits.
For those plotting their next hotel booking in Amsterdam, Grand Hotel Krasnapolsky stands as a testament to luxurious stays, effortlessly blending the charm of the past with today's modern comforts.
More info on Booking.com 5. NH Collection Amsterdam Grand Hotel Krasnapolsky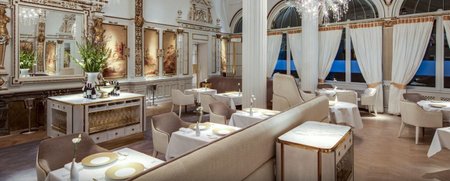 6. Andaz Amsterdam: A Symphony of Contemporary Design
The Andaz Amsterdam isn't just a hotel; it's a contemporary art installation that beckons design enthusiasts. Housed in a once-library and given a complete modern facelift by the renowned Dutch designer, Marcel Wanders, the hotel offers a unique blend of whimsy, local culture, and top-tier luxury.
Features Setting It Apart:
Bold Design: Stepping into Andaz feels like being a character in an Alice in Wonderland tale, tinged with Dutch folklore. From tulip-shaped chairs to a futuristic glass-box lift, the design surprises at every turn.
Artistic Touches: With video screens flaunting the hotel's video art collection, be ready to find your room adorned with wall-mounted art pieces, like an oversized fish hovering over your bed.
Functionality Meets Aesthetics: Beyond the art and design, rooms are tailored for the modern traveler. Think walk-in wardrobes, tech-friendly sound systems, and a plethora of plug sockets (with adaptors to boot).
Innovative Gastronomy: The dining and bar spaces echo the eclectic theme, making every meal a delightful experience enveloped in imaginative luxury.
For your next hotel booking in Amsterdam, let Andaz Amsterdam provide an avant-garde experience that teases the senses while ensuring comfort and practicality are never compromised.
Find out more on booking.com Andaz Hotel in Amsterdam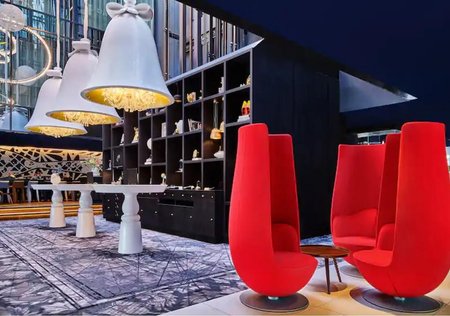 7. The Dylan: Where Intimacy Meets Elegance
For those searching for a cozy escape in the heart of Amsterdam, The Dylan awaits. Tucked away within the vibrant Nine Streets shopping district, this luxurious hotel offers both seclusion and sophistication in equal measure.
Features Elevating Your Stay:
Historical Charm: Nestled in two historic canalside residences, The Dylan effortlessly combines rich wood paneling, classic leather upholstery, and treasured antique pieces to exude old-world charm.
Lavish Rooms: With only 40 rooms, each space is meticulously designed, showcasing muted hues and tranquil designs. The experience is designed to be intimate, ensuring every guest feels pampered and special.
Dining Excellence: Their flagship restaurant, Vinkeles, boasts a well-deserved Michelin star. For a slightly laid-back vibe, the Occo Brasserie promises culinary delights in a relaxed setting.
Rejuvenation in the City: While you might be tempted to explore Amsterdam, The Dylan's shaded courtyard invites you to unwind, offering a serene retreat amid the urban hustle.
Service with a Smile: Beyond the aesthetic appeal, what truly stands out is the friendly and attentive staff. While a gym is on-site, the primary intent here is relaxation and rejuvenation.
Considering a hotel booking in the heart of Amsterdam? Choose The Dylan to immerse in a blend of modern luxury and timeless elegance, all set within one of the city's most bustling quarters.
Find out more on Booking.com The Dylan